Allo Blox eSBC ver 1.0 - Session Border Controller
Allo Blox eSBC ver 1.0 - Session Border Controller
Brand:
Allo
Product Code:
ALLO-0068
Availability:
Please Login
Allo Blox eSBC ver 1.0 - Session Border Controller
Every year the number of PBX fraud victims increases dramatically. More and more companies are targeted by individuals who are looking to bring down or exploit the communications system.
Some do it for fun and others for illicit profit, but the end result is always the same… Huge bills and down time. The most vulnerable targets remain small-medium size businesses that are new to managing their own IP PBX system. Allo Blox eSBC ver 1.0 is a Session Border Controller built to Protect & Manage between IP Network Borders.
Key Features & Benefits:
Session Border Controller for up to 60 simultaneous Channels
Secures your internal PBX/Gateway VolP Network from external network/internet
Handles SIP-NAT issues observed in common VolP deployments
Conducts DPI Packet Inspection of SIP traffic, supporting the Signatures for Key Malwares vulnerabilities observed in SIP Deployments
Supports SIP-TLS, Topology Hiding, CAC, Media Pin-holing, Hosted PBX, Domain routing
Basic Functions:
SIP Outbound/Inbound Trunk and domain policies to route the calls
Secure Remote access to Internal SIP PBX
Eliminates bad VolP signaling and media protocol at the network boundary
Built-in firewall which can controls IP Addresses/Port based Filtering, DOS/DDOS Attacks, IP Blacklist & NAT.
It opens a pinhole in the firewall to allow VolP signaling and media to pass through
Media bridging, which may include Voice over IP and Fax over IP
Least Call Routing Re-Direct
DTMF Support for RFC2833/INBAND/SIP INFO
Advanced Features:
SIP Trunking (Connectivity)
Remote Worker (Roaming User)
SIP Registration Pass-thru
Core Session Router (Call Routing)
SIP Intrusion Prevention
DDoS / DoS Attack Protection
SIP Registration Scan Attack Detection
SIP Header Normalization
SIP Malformed Packet Protection
Topology Hiding
Call Access Control (Total calls per Trunk, Inbound/Outbound)
Least Cost Routing
Media anchoring
Call Security with TLS
Advanced NAT Traversal Capabilities
T.38 Fax Relay
CDR record generation
SIP Header Manipulation
IP Firewall
VLAN and Virtual IP support
Packet-to-packet call flows (B2B UA)
Media relay with dynamic pinhole control
SIP Request Rate Limiting
GUI Troubleshooting tools – Ping, Traceroute, Packet Capture, SSH Terminal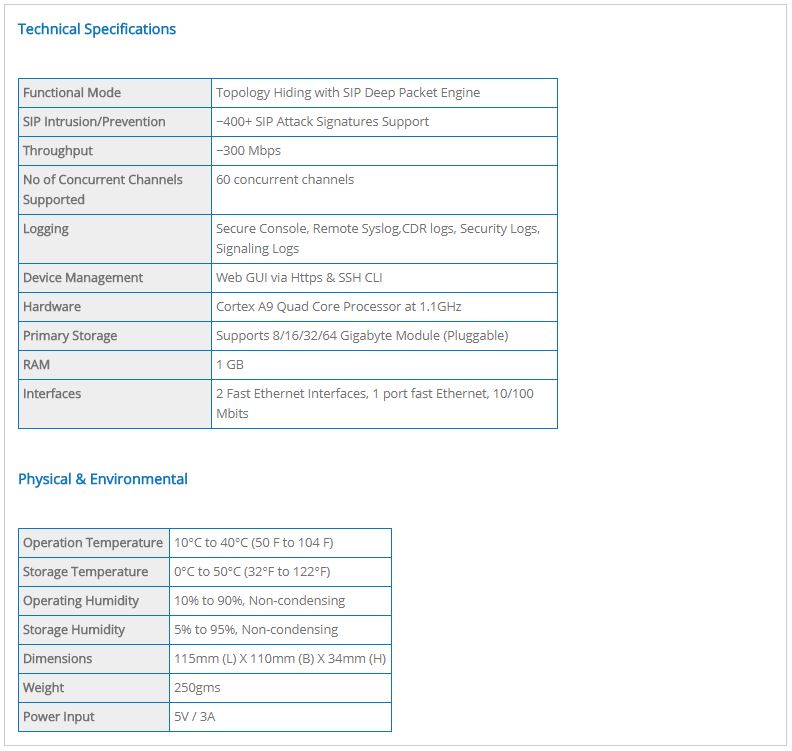 ​
Specifications
Manufacturer
Allo
Product Type
SBC